A) RESEARCH LABORATORIES
·
Barcelona
Bioinformatician to Investigate Drug Resistance in Cancer using Single Cell Genomics (ref. PD/22/01)
Eduard Batlle Lab at IRB Barcelona is seeking a bioinformatics scientist to participate in the research consortium PERSISTSEQ (https://persist-seq.org/), which aims to identify the cancer cells that resist drug treatment and are responsible for relapse after therapy through extensive sample analysis using state-of-the-art single cell genomic approaches. The PERSISTSEQ consortium includes several prominent European researchers in the area of cancer and genomics as well as pharma industry partners.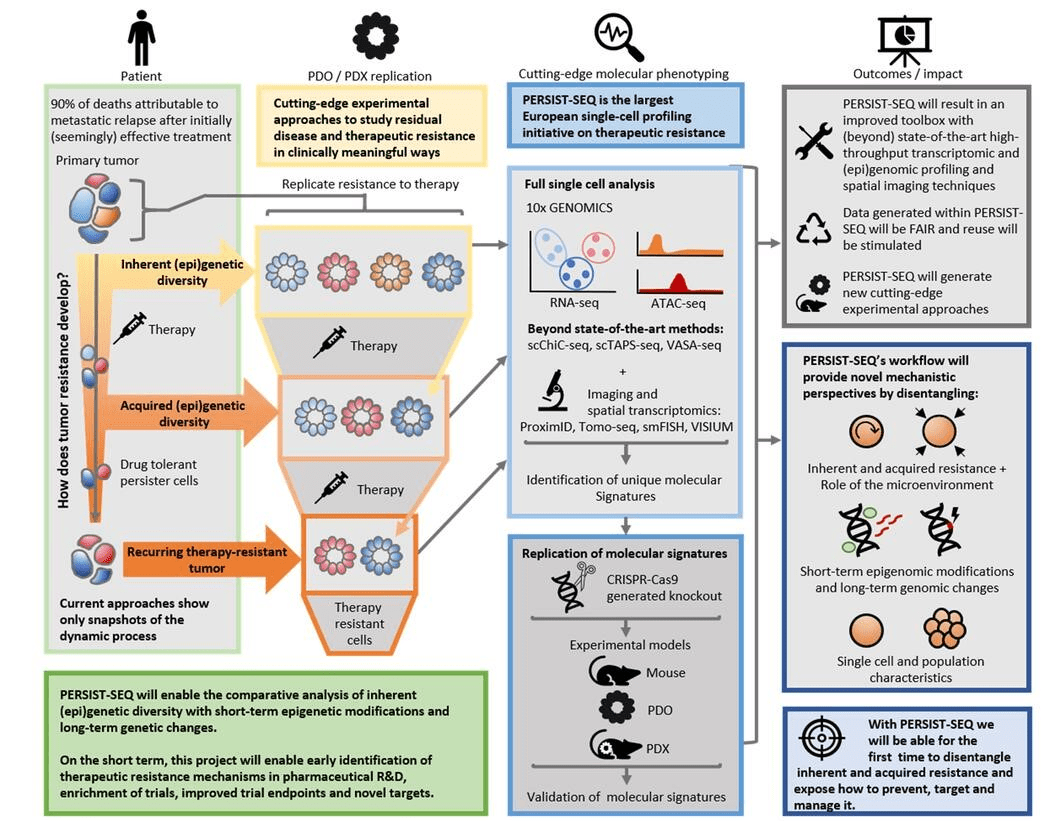 IRB Barcelona is a world-class research center devoted to understanding fundamental questions about human health and disease. With over 350 scientists from 34 countries, IRB Barcelona provides a highly dynamic environment and outstanding research facilities.
The Batlle Lab is an internationally recognized laboratory that explores the connection between stem cells and cancer and the mechanisms of immune evasion utilized by metastatic colorectal cancers (https://www.irbbarcelona.org/ebatlle).
Candidate qualification: Applications are invited from highly motivated and ambitious researchers with a strong track record. The applicant is expected to have extensive experience in the area of bioinformatics and genomics. Applicants should have excellent interpersonal, communication and organizational skills and the ability to work both as part of the team as well as independently.
The candidate will collaborate closely with the Bioinformatics / Biostatistics Unit of IRB Barcelona, which has extensive expertise in cancer genomics and particularly in the analysis of single cell data.
DUTIES: 
Provide support in biological data analysis: process and analyze data primarily from single cell sequencing, but also from other diverse platforms, next generation sequencing, clinical databases, proteomics, etc.
Develop tailored solutions and cutting-edge methodology for the analysis of data in collaboration with experimental researchers.
EXPERIENCE, KNOWLEDGE, SKILLS:
Education:
Required: Bioinformatic, Biostatistic or a related discipline
Desirable: A PhD in Bioinformatics, Biostatistics or a related discipline or equivalent working experience in analysis of biological data
Professional experience:
Required: Programing experience in R for applied statistical analyses
Desirable: Shown record of analysis of biological data
Languages:
Required: Comfortable use of English in the professional setting
Desirable: Excellent use of written English
Skills:
Required: Good communication skills and ability to learn new biological concepts
Desirable: Proactive in methodological development
WORKING CONDITIONS & ENTITLEMENTS:
Working conditions: Employed in compliance with Spanish legislation and regulations under a full-time contract. Employees receive the benefits of the Spanish Social Security system covering sickness, maternity/paternity leaves and injuries at work.
Training and Career: Researchers joining IRB Barcelona gain access to the Institute's advanced research training and career development opportunities, all within in a competitive international environment. Courses and workshops on themes of particular interest to postdocs are offered regularly by the Institute.
International environment: Researchers from 35 different nationalities currently working at IRB Barcelona.
HOW TO APPLY & SELECTION PROCESS:  
Applications for the above opening should include a full CV and Motivation Letter .
Deadline for applications: 22/04/2022 (If no suitable candidate is found, the deadline will be extended) 
Number of positions available: 1
Selection process:

Pre-selection: Will be based on CV, motivation letter & experience. 

Interviews: Short-listed candidates will be interviewed.

Job offer: Will be sent to the successful candidate after the interview. 
Note: The strengths and weaknesses of the applications will be provided upon request.
'If you, as an applicant, have any suggestion or wish to make a complaint regarding the selection process, please contact us at the following email address: irbrecruitment.suggestions@irbbarcelona.org'
A) RESEARCH LABORATORIES
·
Barcelona
Bioinformatician to Investigate Drug Resistance in Cancer using Single Cell Genomics (ref. PD/22/01)
Loading application form